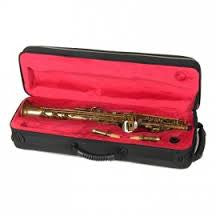 Sold Out
Rental - Soprano Saxophone
$507.50
Brand Gazebo Music
This product is unavailable
 Instrument rentals are a simple and worry free way to get playing.
 Simply purchase your rental online and we ship the instrument to you. 
Benefits.
 Equity -- %50 of all rental fees go toward the purchase of the instrument
 Simplicity -- Everything you need to get started is in the case
 Quality -- We check every instrument before renting to ensure full function and stability.  
 Support -- Help is just an email or phone call away.  Talk directly to experienced technicians.
Currently available to Ontario residents only.  
Ship using, local courier or Canada Post Regular Parcel (3 business days.)